Let Philomena Grace help you to save children's lives
Philomena Grace: How an unwanted, unloved abortion victim is now touching lives, changing hearts
Abortion now has a face
By Anita Crane

TOWSON, Maryland, November 3, 2020 (LifeSiteNews) – Philomena Grace lived a dramatic life because she died a shocking death. The day before Thanksgiving 2019 – Wednesday, November 27 – a cleaning employee at the Ruby Tuesday restaurant in Upper Marlboro, Maryland found Philomena's body in a ladies' room toilet.
Philomena's death is brutal, heartbreaking truth, but her photo and her story are beautiful proof to help us save other children's lives.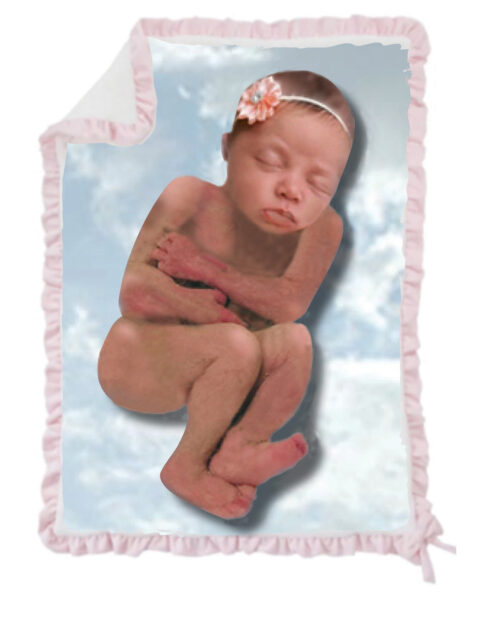 Abortion victim Philomena Grace. Photo copyright 2020 Missy Reilly Smith and WAKE UP. All rights reserved.

We know Philomena Grace because of Miss Mel Davis. Mel faithfully prays for the end of abortion and she heard about Philomena's body in the toilet on a police scanner. Mel immediately called Missy Reilly Smith, foundress of WAKE UP, which is based in Washington, D.C. Mel called Missy because WAKE UP stands for Women Against the Killing & Exploitation of Unprotected Persons. For 20 years, Missy has prayed outside of abortion facilities and asked mothers to bring their children into the world. If need be, Missy leads the mothers to pregnancy help centers and she tells them about adoption options.
As soon as Missy learned about the little victim, she decided to claim the baby's body for a Christian funeral and burial. She named the baby "Philomena" after the wonderworker Catholic saint and "Grace" after a former abortion worker who returned to the Catholic Church.
Since the Supreme Court's 1973 rulings on Roe v. Wade and Doe v. Bolton, untold millions of children have died in obscurity under the pretense that abortion is a private decision between women and their doctors.
Jack Ames, director of Defend Life in Baltimore, joined Missy in the noble mission of telling the world that Philomena Grace shouldn't be a nameless, faceless tragedy. At Philomena's October 17 funeral, Missy and Jack became Philomena's godparents.

Click here to continue reading this feature article at LifeSiteNews and please share it from there.

Mourners standing at the gravesite of abortion victim Philomena Grace with her godparents, Missy Reilly Smith and Jack Ames. Father Edward Meeks and Bishop Joseph Coffey are conducting the rite of Christian burial at Meeks's parish Christ the King Catholic Church in Towson, Maryland on October 17, 2020. (Marla J Hurtado © 2020)